Nguyen Quang Huy's Solo Exhibition 'an everyday day' – Depicting the Scenery of the Souls
Vietnam
GALERIE QUYNH
Dec 07, 2018 - Jan 30, 2019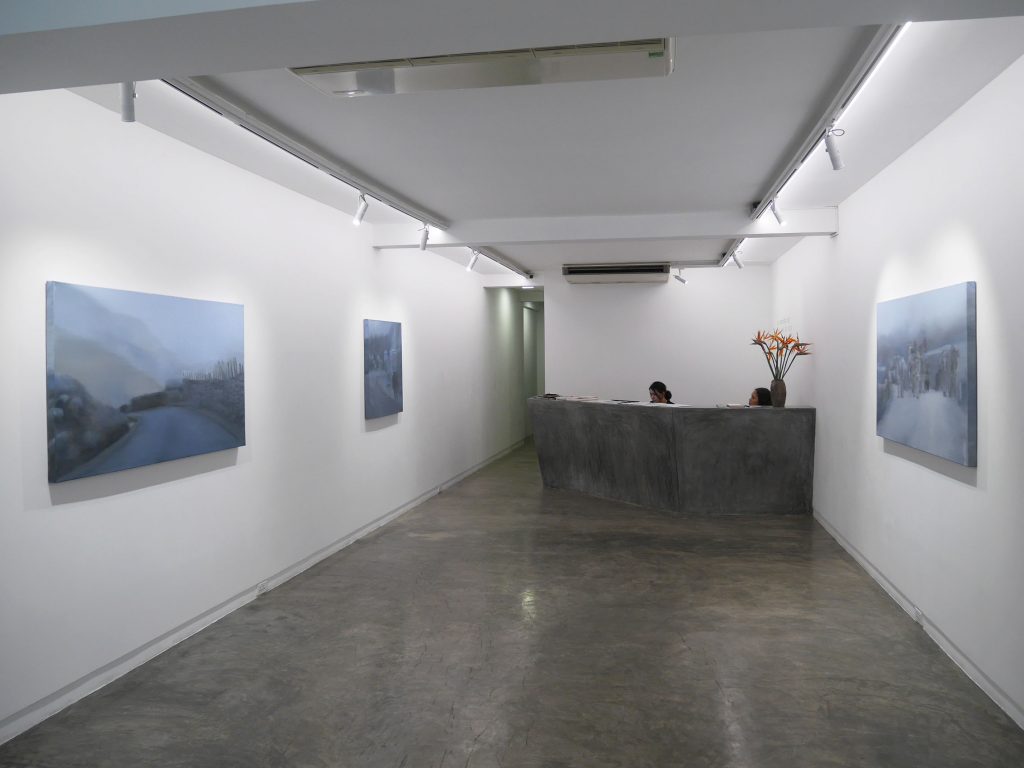 From 7th December to 30th January 2019, a solo exhibition, 'an everyday day' by Nguyen Quang Huy was held at GALERIE QUYNH, Ho Chi Minh City. The work which was painted was a mountainscape and images of women, like a mindscape with a light gray soft touch, and the exhibition hall was filled with a fog-like silent atmosphere.


Nguyen Quang Huy's Work
The artist Nguyen Quang Huy, based in Hanoi, the capital of Vietnam, is a pioneering artists that appeared after the Doi Moi reforms (a period during which many artistic experiments were conducted with the liberalization of the Vietnamese economy), which began in 1986. Many of his works are inspired by the highlands of northern Vietnam. When he was a student at Hanoi Art University, he did a sketch in the mountains once a year. Even after graduation, he continues to go on a pilgrimage to the mountains. The meandering path that disappears into the fog is depicted in his work.


About 'an everyday day'
Nguyen Quang Huy was dissatisfied with traditional photorealism, and by using his own deliberate blurring-technique and subdued colors, such as blue-gray which is close to monotone, he came up with a technique to capture the spiritual essence of his subject.
Influenced by Buddhist philosophy and the mountain tribe the Hmongs, who think that souls reside in all living and inorganic things, such as animals, plants, rocks, his landscapes and portraits are imprinted with the history of the people and their land. Just as the cliffs made of limestone in Halong Bay have witnessed countless generations, a woman's soul may have recorded the history of many people. Aiming for such a delicate quality, he continues to paint these quiet, imaginative paintings.
The title of this solo exhibition, 'an everyday day' is inspired by Quang Huy's poetry 'G ặ p'. It is a collection of unforgettable memories, such as chants and prayers, and a Zen meditation; like brief encounters between men and women, between fog and  mountains.


Main works
Hmong girl (2018)
Oil color
90 × 160 cm
The Hmong girl who seems to connect the future and the past, stares at us impressively.

Bamboo fence (2018)
Oil color
90 × 160 cm
There seems to be a feeling of nostalgic things in the bamboo fence on the vanishing mountain path.
Mother and daughters (2018)
Oil color
90 × 160 cm
Daughters are depicted carrying heavy loads on their backs, as if they are being considerate of their mother.

The road home (2018)
Oil color
90 × 160 cm
It can be said that it is a work that gives a strong impression of the artist's unique expression technique with movement and stillness.
Summary
The blue-gray paintings depicting the existence of the soul, influenced by the animism of the mountain tribe in his quiet style that makes people forget time, was a memorable exhibition.


Artist Profile
Nguyen Quang Huy
Born in Vietnamese Ha Tay, 1971

One of the First generation of Vietnamese experimental artists whom emerged after the Doi Moi reforms.

Education:
Hanoi University of Fine Arts

Exhibition:
Vietnam Fine Art Museum, Hanoi Vietnam; EunAm Museum of Art Gwangju, Korea; ifa galleries Berlin and Stuttgart, Germany; Stenersenmuseet Oslo, Noway; and Pavillon des Arts Paris, France


Gallery Information
Basic information about the gallery that was provided in the exhibition venue.
GALERIE QUYNH
Address:118 Nguyen Van Thu, Dakao Ward District, Ho Chi Minh City, Vietnam
Telephone: (+84)28-3822-7218
Opening hours: 10:00 am -19:00 pm Tuesday-Saturday
Information
an everyday day
開催期間

7th December - 30th January 2019
会 場

GALERIE QUYNH
118 Nguyen Van Thu, Dakao Ward District, Ho Chi Minh City, Vietnam Telephone: (+84)28-3822-7218
電 話

(+84)28-3822-7218
営業時間

10:00 am -19:00 pm Tuesday-Saturday
URL