A Collection Exhibition: 'Collectors Plus'- Silverlens Galleries
Philippines
Silverlens Galleries
Sep 04 - Oct 02, 2021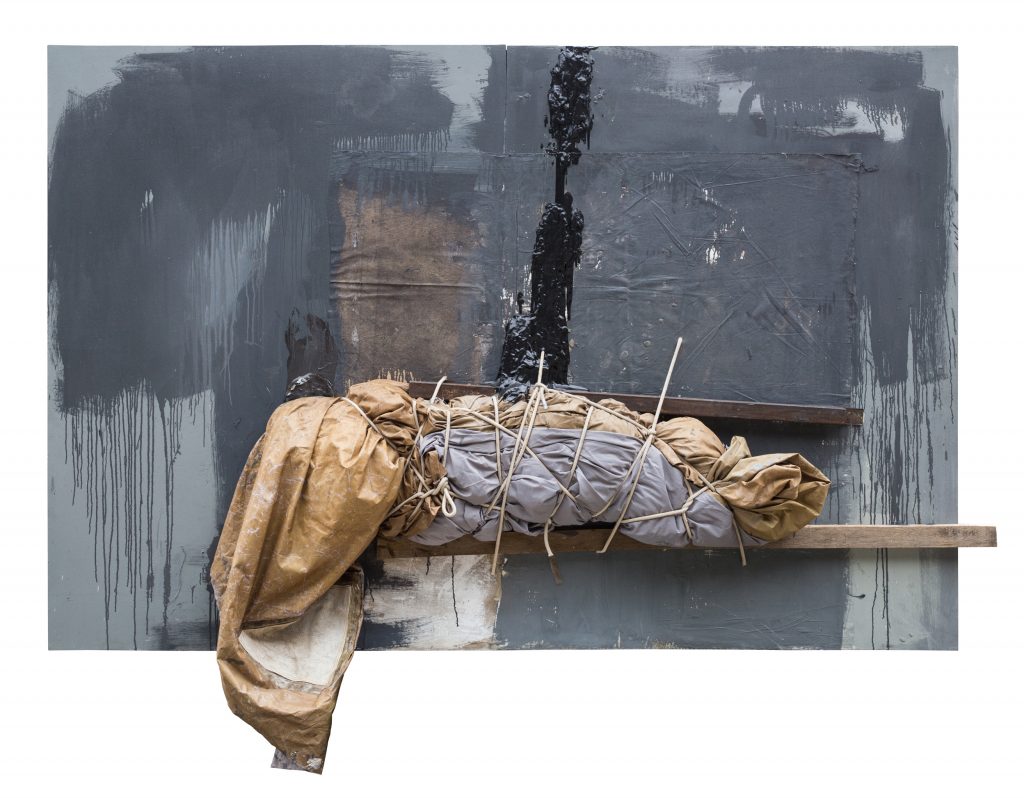 Crimped Tent, Bernardo Pacquing, 2019, assemblage on canvas, 182.88h x 274.32w cm
All images by courtesy of Silverlens Galleries
SILVERLENS is pleased to present the second edition of Collectors Plus, curated by the gallery's directors, Isa Lorenzo and Rachel Rillo. For this edition, we are presenting as its core, Philippine contemporary art from the years 2005 - 2015, from four collectors based in Hong Kong and Manila. The core collection was put together by an early patron of southeast Asian art who travelled the region extensively in the early 2000's from his base in Hong Kong. The show includes early pieces by Maya Muñoz, Elaine Navas, Nona Garcia, Winner Jumalon, and Yasmin SisonChing among others.

There are two works from Yayoi Kusama's Night Flowers series, early pieces by Pow Martinez, and Norberto Roldan signature altars. Accompanying the show is an early large five-panel painting by Bernardo Pacquing, a rare pastel painting of Chati Coronel, and an impressionist piece by Mit Jai Inn. The first edition of Collector's Plus was in 2020, and its popularity among audiences was palpable from the moment it was announced.

Artists included in the exhibition are:
Vic Balanon
Yasmin Sison-Ching
Chati Coronel
Nona Garcia
Mit Jai Inn
Winner Jumalon
Yayoi Kusama
Pow Martinez
Maya Muñoz
Elaine Navas
Bernardo Pacquing
Norberto Roldan
Don Salubayba
Wire Tuazon


Vic Balanon
Kassiope, 2014, india ink on canvas paper, 91.44h x 121.92w cm
Yasmin Sison-Ching
Passing Time, 2008, oil on canvas, 183h x 122w cm (each)
Chati Coronel
Chati Coronel (b. 1970, Manila, Philippines; lives and works in Toronto, Canada) has been consistently evolving her painting practice for twenty-eight years and in that time, she has developed a singular artistic voice. Her distinct painting methodology, which she refers to as 'Figurative Spatialism' is a process by which negative space is painted over completed layers of text and abstract gestures until a silhouette is enclosed. This leaves her paintings' subjects, often human figures empty to expose the abstract layers below. By effectively omitting the usual visual cues that point to race, age or personality, Coronel chooses instead to give her human forms an inner world, a human universality. Coronel is represented by Silverlens Galleries and has exhibited her work in Manila, Los Angeles, Florence, Singapore, and most recently, Art Basel Hong Kong.
Chati Coronel

Knees, 2013, acrylic on canvas, 152.40h x 121.92w cm
Nona Garcia
Blank Empty, 2010, oil on canvas, 101.75h x 152.25w cm

Mit Jai Inn
Mit Jai Inn was born in 1960 in Chiang Mai, Thailand, where he lives and works today. Several of his early experiences remain influential to him, including the communal and aesthetic aspects of being raised in an Indigenous Yong weaving village, a meditation and political practice drawn from six years as a Theravada Buddhist monk, and the labor and endurance of training two years as a professional Muay Thai boxer. Mit then studied art at Silpakorn University, Bangkok (1982-1986) and continued studies at the University of Applied Arts, Vienna (1987-1992), during which time he worked as assistant to artist Franz West. Returning to Chiang Mai in 1992, Mit initiated social and politically focused art initiatives, including as co-founder of Chiang Mai Social Installation (1992-), as well as involvement with Midnight University and The Land Foundation – three non-institutional projects central to Thai contemporary art practice and discourse. In 2015, Mit also founded Cartel Artspace in Bangkok, a gallery offering space to artists reflecting on Thailand and Southeast Asia's historical and current context. Mit's recent exhibitions include: Actants, Silverlens, Manila; Encounters, Art Basel Hong Kong; SUNSHOWER: Contemporary Art in Southeast Asia from 1980s to Today, Mori Art Museum and Kaohsiung Museum of Fine Arts; and SUPERPOSITION: Equilibrium and Engagement, The 21st Biennale of Sydne
Mit Jai Inn

Untitled, 2016, oil on canvas, 200h x 200w cm

Winner Jumalon
Face (small), 2006, oil on canvas, 63h x 50w cm

Face (big), 2006, oil on canvas, 234h x 183w cm
Yayoi Kusama
Night Flowers (B), 2003, screenprint, 28h x 65.90w cm

Night Flowers, 2003, screenprint, 28h x 65.90w cm
Pow Martinez
Pow Martinez's (b. 1983; lives and works in Manila, Philippines) paintings belie their grotesque subject matter with the indelibly beautiful surfaces and a wide-ranging, daring use of color. Mutants, monsters, demons, deviants, and freaks lurch, sit, and appear to transform amidst weirdly lit landscapes or disintegrating urban scenarios, or emerge from a painterly graffito mess, but, as his more abstracted works insist, Martinez' ability to render intriguing relationships between forms and surfaces ensure his works are endlessly compelling—an experience akin to a beautiful nightmare.
Martinez is a recipient of the Ateneo Art Awards for his exhibition 1 Billion Years at West Gallery, Philippines. He exhibits internationally and has worked with different media, including sound. His recent exhibitions include City Prince/sses (2019) at Palais de Tokyo in Paris; 50 Years in Hollywood (2019) at Pinto Art Museum in New York; WASAK! Reloaded (2016) in Arndt, Singapore; and WASAK! (2016) in Arndt, Berlin. Martinez has also held a number of solo shows in major galleries in Manila, the most recent of which is Sustainable Anxiety (2020) in SILVERLENS. Early in 2018, Martinez had his first solo exhibition in Indonesia. Titled Aesthetic Police, the exhibition is an outcome of his month- long residency program at OPQRStudio in Bandung.
Pow Martinez

Untitled I, 2011, oil on canvas, 60.96h x 45.72w cm
Untitled III, 2011, oil on canvas, 60.96h x 45.72w cm

Untitled V, 2011, oil on canvas, 60.96h x 45.72w cm
Maya Muñoz
Gravity (Red), 2006, oil on canvas, 150h x 150w cm

Volcanic Landscape, 2007, acrylic on canvas, 44.25h x 51.30w cm (each)
Elaine Navas
Rusty Gate, 2007, oil on canvas, 122h x 122w cm
Bernardo Pacquing
Bernardo Pacquing continues to approach the expressive potential of abstraction in painting and sculpture through the use of disparate found objects that confront and disrupt perceptions of aesthetic representation, form, and value. By focusing on the organic shapes of visual reality, his work displaces notions of indisputable forms and opens possibilities for coexisting affirmations and denials.
Pacquing was born in Tarlac, Pampanga in 1967. He graduated from the University of the Philippines College of Fine Arts in 1989 and was twice awarded the Grand Prize for the Art Association of the Philippines Open Art Competition (Painting, Non- Representation) in 1992 and 1999. He is also a recipient of the Cultural Center of the Philippines Thirteen Artists Award in 2000, an award given to exemplary artists in the field of contemporary visual art. Pacquing received a Freeman Fellowship Grant for a residency at the Vermont Studio Center in the United States.
Bernardo Pacquing

Damp Mortar, housepaint and oil on canvas, 182.88h x 91.44w cm (each) (5 panels)
Norberto Roldan
Norberto Roldan's (b. 1953, Roxas City, Philippines; lives and works in Manila, Philippines) practice is rooted in social and political issues. His installations, assemblages and paintings of found objects, text fragments and found images address issues surrounding everyday life, history and collective memory. His artistic process engages with ways in which material objects are re-appropriated in another context. He graduated with a degree in BA Philosophy from St. Pius X Seminary and took his BFA in Visual Communication from the University of Santo Tomas. He is represented in several landmark surverys like No Country: Contemporary Art for South and Southeast Asia, Solomon R Guggenheim Museum (2013); Between Declarations and Dreams: Art of Southeast Asia Since the 19th Century, National Gallery Singapore (2015); SUNSHOWER: Contemporary Art from Southeast Asia 1980s to Now, National Art Centre Tokyo (2017); and Passion and Procession: Art of the Philippines, Art Gallery of New South Wales (2017).
Roldan founded Black Artists in Asia in 1986, a group with a socially and politically progressive practice. In 1990 he initiated VIVA EXCON (Visayas Islands Visual Arts Exhibition and Conference), the longest running biennale in the Philippines. He co-founded Green Papaya Art Projects in 2000 which remains to be the longest-running independent and multi-disciplinary platform in the country.
There Are No Ideas But in Things (Two Aliens), 2018, installation with old medicine cabinet, old lipstick holders and framed photo, 40.64h x 48.26w x 41.91d cm

There Are No Ideas But in Things (Headless Saint), 2018, installation with found wooden santo, and bottles, 173.99h x 54.61w x 39.37d cm
Don Salubayba
Image from my floating world VIII
2008, mixed media on canvas, 181h x 142w cm
Wire Tuazon
For Binti Jua's journal: this dream people call human life, 2007, oil on canvas, 122h x 122w cm
Information
Collectors Plus
開催期間

04 September - 02 October 2021
会 場

Silverlens Galleries
2263 Don Chino Roces Avenue Extension, Makati City 1231, Philippines
電 話

+63 2 8816 0044
営業時間

8:30am - 4:30pm Tuesday - Saturday
URL