'Paradise Found Paradox' by Gordon Cheung – Richard Koh Fine Art
Singapore
Richard Koh Fine Art Singapore
Oct 07 - Oct 28, 2023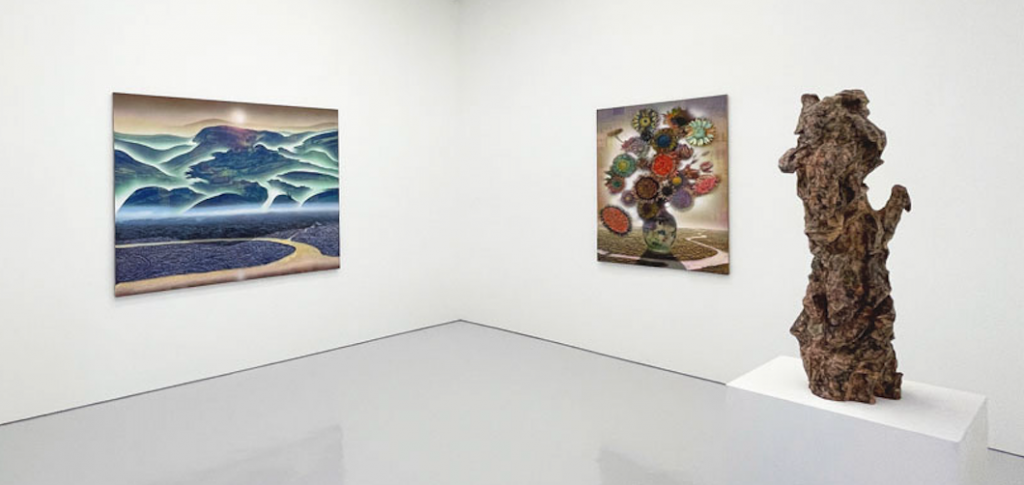 PAll images by courtesy of Richard Koh Fine Art (RKFA) and artist
Gordon Cheung's "Paradise Found Paradox" marks his inaugural solo showcase in Singapore, bringing together a captivating blend of mixed-media landscape paintings, still-life compositions, and unique sculptures. Inspired by the tranquil essence of a Chinese scholar's garden, Cheung ingeniously intertwines the beauty of nature with humanity's profound aspirations.

Cheung's distinctive approach unfolds a narrative of paradoxes within the concept of 'Paradise Found'. Delving into the intricate interplay between the idyllic notion and the obscured shadows of colonization, the artist navigates through history's complex truths. 'Paradise Found' historically served as a pretext for colonial expansion, often masking the devastating impact on indigenous communities. Cheung's art eloquently weaves this colonial narrative with the sanctuary of a Chinese scholar's garden, inviting viewers on a contemplative voyage through the annals of victor-written histories.

Vibrant blooms and ever-changing landscapes coexist with imagery drawn from the scroll paintings of the 40 views of Yuanmingyuan, also known as the Old Summer Palace in Beijing. This imperial sanctuary fell victim to looting and incineration during the 2nd Opium War, an event that resonates in Cheung's poignant canvases. The artist seamlessly integrates references to the Dutch Golden Age still-life paintings, drawing parallels to the economic collapse known as Tulipmania. This period also witnessed the emergence of Modern Capitalism, propelled by entities like the East India Trade Company, which played a pivotal role in the global spread of colonialism, militarized trade routes, and the abhorrent practice of slavery.

In "Paradise Found Paradox", the Chinese scholar's garden emerges as both a resplendent Eden and a poignant symbol of loss, echoing intertwined tales of home, paradise, and conquest. Cheung's artworks provoke contemplation, encouraging us to delve into the multifaceted layers that shape our perceptions of paradise and the enduring legacies of colonization. Through this transformative experience, viewers are invited to question the veracity of histories written by victors and, in turn, foster a deeper understanding of our shared human narrative.

Liu Zongyuan's "Mountain Window" (山窗), 2023, Financial Times newspaper, bamboo and adhesive, 42 X 58 cm

Rectitude and Honour (Shanghai), 2023, Financial Times newspaper, archival inkjet, acrylic and sand on linen, 150 X 200 X 5 cm
City of Five Celestial Rams, 2023, Financial newspaper, archival inkjet, acrylic and sand on linen, 135 x 100 x 5 cm

Rising Power, 2023, Financial Times newspaper, wood glue, and polystyrene on thermoplastic polymer, 120 X 48 X 32 cm
About the Artist
Born in 1975 in London to Chinese parents, Gordon Cheung has developed an innovative approach to making art, which blurs virtual and actual reality to reflect on the existential questions of what it means to be human in civilisations with histories written by victors. Cheung raises questions and critiques the effects of global capitalism, and its underlying mechanisms of power on our perception of identity, territory and sense of belonging. These narratives are refracted through the prisms of culture, mythology, religion, and politics into dreamlike spaces of urban surreal worlds rooted in his in-between identity.
 
Cheung graduated with a Bachelor of Fine Arts in Painting in 1998 from Central Saint Martins College of Art and Design in London and earned his Master of Fine Arts in 2001 from the Royal College of Art in London. Selected solo shows include Jack Shainman Gallery in New York, The Four Horsemen of the Apocalypse, The New Art Gallery Walsall, UK, The Light that Burns Twice as Bright, Cristea Gallery, London UK, Here Be Dragons, Nottingham Castle Museum and Art Gallery, Nottingham, UK and New Order Vanitas, Ann Norton Sculpture Gardens, West Palm Beach, Florida, US.
 
His works are held in the collections of the Museum of Modern Art in New York, the Hirshhorn Museum in Washington, D.C., the Whitworth Art Museum in Manchester, the Royal College of Art in London, and the British Museum, amongst others.
Portrait of GORDON CHEUNG. Photo courtesy of the artist
Information
Paradise Found Paradox
開催期間

Oct 07 - Oct 28, 2023
会 場

Richard Koh Fine Art Singapore (RKFA)
Blk 47 Malan Road, #01-26 Gillman Barracks, Singapore 109444
電 話

+65 6513 2640 / +65 9139 8681
営業時間

11am – 7pm Tuesday – Saturday (Closed on Sundays, Mondays & public holidays)
URL