[Bangkok Art Biennale] Contemporary Art at the Shopping Mall! Works by Yayoi Kusama and others exhibited in the mall
Central World, Siam Paragon, Central Embassy
Thai
Oct 19, 2018 - Feb 03, 2019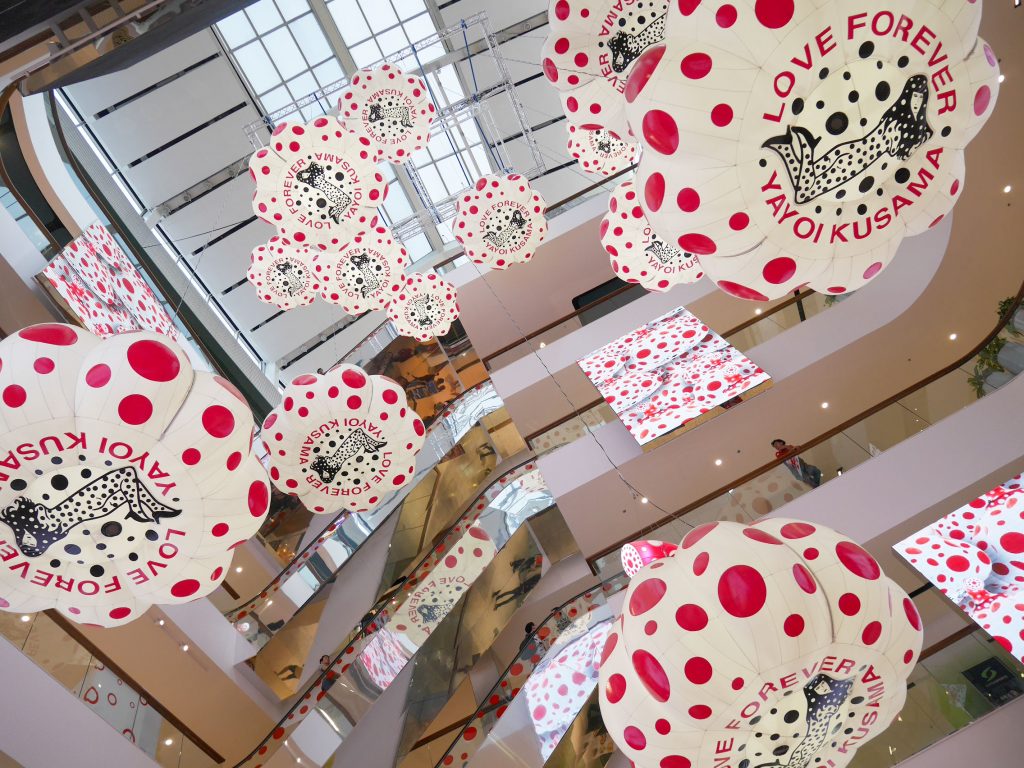 Besides art galleries, temples, famous hotels, historic buildings, and shopping malls were also used to exhibit art at the Bangkok Art Biennale from 19th October 2018 to 3rd  February 2019. People who do not usually have much of a chance to come into contact with works of art were able to appreciate contemporary art when they visited the shopping mall. Yayoi Kusama's works from Japan could also be viewed at the mall.

Access to the exhibition hall:
http://www.bkkartbiennale.com/venues/


About Bangkok Art Biennale
Bangkok Art Biennale is an art event organized by the Bangkok Art Biennale Foundation. Its mission is to inspire ASEAN and international audiences by raising awareness and actively nurturing contemporary art exhibitions.

In this Bangkok Art Biennale 2018, mainly in the BANGKOK ART AND CULTURE CENTRE, exhibition halls were set up in twenty locations around Bangkok, including galleries, temples, malls, and hotels, allowing visitors to appreciate a variety of works.

Duration: 19th October 2018 to 3rd February 2019.
URL: http://www.bkkartbiennale.com



A shopping mall where you can enjoy the works of Yayoi Kusama
The works of Yayoi Kusama, a leading Japanese artist, were exhibited at a famous shopping mall in Bangkok. It seemed that her fashion design and other work, which demonstrates her sense of art, provided a fresh stimulus to the shoppers visiting the mall.


Central World
Fourteen inflatable pumpkins - pumpkins with polka dot patterns, which is a characteristic of her work, were suspended as if they were floating in the hall of the atrium. You can view the pumpkins in the air from the escalators on both sides, and this piece has a very huge presence even when you look up from the ground floor. It can be said that her style of pop art matches the modern Bangkok mall.


Siam Paragon
'I Carry on Living with the Pumpkins (red)' 2017
Fiberglass-reinforced plastic, tiles, and steel are used. This is a private collection that is colorful with a beautiful luster.
Fiberglass-reinforced plastic, urethane is also used. This is a private collection. The contrast between red and black with the balance of the polka dots has a pop art sensibility.

Artist Profile:
Yayoi Kusama
Born in Nagano Prefecture in 1929

She went to the United States in 1957 and performed avant-garde performances as well as paintings and created three-dimensional works. The motif of the polka dot pattern is the most famous in her work. She also undertakes fashion design and the writing of novels.

Award history:
1995, 1996 - International Federation of Art Critics, Best Gallery Award
The 50th Annual Art Awards of the Ministry of Education, Culture, Sports, Science and Technology in 2000
2000 - Foreign Minister's Commendations 
2001 - Asahi Prize
2002 - Medal with Dark Blue Ribbon
2003 - Grade d'officier dans l'ordre des Arts et des Letters
2003 - Nagano Governor's Award
2006 - Order of the Rising Sun
2006 - Lifetime Achievement Award
2006 - The Praemium Imperiale 
2009 - Person of Cultural Merit
2016 - The Order of Culture


Other works exhibited in shopping malls
Artwork exhibited at a famous shopping mall in Bangkok was exhibited mainly as installations and in various places such as inside and outside of the building. As it overlapped with the Christmas season, the exhibition hall used for the work was partly moved to other malls during that period.
'Happy Happy Project : Fruit Tree'
Exhibition Venue: Central Embassy
A giant installation of an inflatable structure by Choi Jeong Hwa. The work is of a fruit tree that suddenly appeared in the city and really made the viewers feel happy.


Artist Profile:
Choi Jeong Hwa (Korea)
Artist who works with visual art, graphic design, industrial design, etc.

Exhibition:
'Secret Beyond the Door' (2005), at Venice Biennale in Italy. He participated in the Open-Air Exhibition (2006) at Middleheim Museum in Antwerp, Belgium. Special project, Vivocity (2006) at Singapore Biennale in Singapore. Peppermint Candy (2006) at Museo de Arte Contemporaneo in Santiago, Chile. Arcadia (2007) at Exposition d'art contemporain au Chateau d'Oiron, France, solo exhibition Paradise (2008) at Point Ephemere Paris, France, and Accumulation (2009) at Pekin Fine Arts, Beijing, China.
'Flower Power'
Exhibition Venue: Central World
Scanography collection by Angki Purbandono. The works of conceptual flowers are lined up colorfully.


Artist Profile:
Angki Purbandono (Indonesia)
One of the most famous Indonesian conceptual photography artists and a founding member of Ruang MES 56. He will be invited to several exhibitions by the curators of the exhibitions, including this year's Photo Bangkok Festival.
'Shot Guns'
Exhibition Venue: Siam Discovery
Choi Jeong Hwa (Korea)

'Happy Happy Project: Alchemy'
Exhibition venue: Siam Discovery
Choi Jeong Hwa (Korea)
'Anthuriums Flowers'
Exhibition venue: Siam Discovery
Choi Jeong Hwa (Korea)
Summary
The shopping mall, which is the most visible space for the general public, was among one of the venues at this Biennale and exhibited works mainly by artists from abroad. In particular, Yayoi Kusama's work had a strong impact even in a space where people's awareness of malls is multidirectional, and it had a wonderful response to the strategic layout of the Biennale.
Information
Bangkok Art Biennale
開催期間

October 19 2018 - February 03 2019
会 場

Central World, Siam Paragon, Central Embassy

URL